Cyclone3 at Markiza.sk: over 1.2 million images
Published 2008-10-17 in Solutions by jondrusek
Sites such as Facebook host over 10 Billion pictures. How can Cyclone3 stand against this performance-wise? Cyclone3 is deployed at the largest Slovak TV portal with over 1.2 Million images. This is a real test for Cyclone3 with all its complicated data structures together with high performance requirements and short load times. More smart image processing is coming up, such as SVG editing and image duplicity auto-detection.
Markiza.sk project
This portal presents various heavy requirements to Cyclone3. Quantity of the server content (over 1.2 Million images generated in several pre-defined formats, articles, discussions and videos), both user and non-user generated. The data structure supports various scenarios. Every picture can be in any number of categories, every picture comes with any number of auto-generated formats. The directory tree for the pictures application has over 1500 subfolders. Image categories are multilingual as well as image description. The system also supports automatic image cropping with face detection, keywords, viewer rating, "emo" rating (according to users' emotions) and sorting.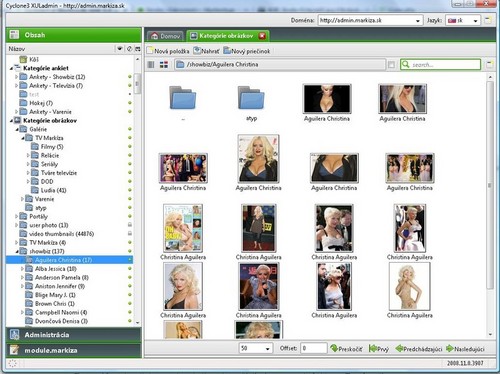 Most Cyclone3 modules are patched so that they are optimized according to the site's needs - for maximum performance. Markiza.sk employs professional editors who create the content, so the CMS has to be swift so that their user experience does not suffer.

Upcoming features
The need for automatic image categorization arises with the large amount of pictures. Therefore, there are plans for automatic sorting and image identification. Also, an SVG editor will be available, entirely in the XUL language running on Mozilla Application Framework.