Cyclone3 Amnis Interactive
Published 2009-07-23 in Solutions by jondrusek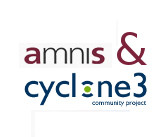 Cyclone3 Amnis Interactive is a joint solution with Accalio's Amnis and Cyclone3 Application Framework to provide on-line document composition and shipment tracking for hybrid mail.
Amnis as a solution
Amnis is a solution for hybrid mail and high-volume print service providers.
Virtually consolidate any number of electronic documents into envelopes for printing and delivery to any number of physical or electronic mail recipients.

Ensure correspondence is delivered according to official Post Office, corporate or marketing design rules and regulations.
To read more about Accalio's Amnis solution
visit Accalio solutions page
.
The Amnis Server

The Amnis Server is a post-processing engine that collects all user daily print jobs and transfers them to the high-volume print center.
Cyclone3 - Amnis Solution

Cyclone3 Amnis Interactive is a customized Web Portal based on Cyclone3 Application Framework with online document composition and previewing and shipment tracking. This means that the user is able to compose documents and forms using a rich internet application, generate previews and also track the document handling process.